360 Home Inspections Services
Northern New Jersey Residential Inspections
Home Inspection Services
We assist buyers and sellers throughout Northern New Jersey with inspection services ranging from a Buyer's Home Inspection, Wood-Destroying Insect Inspection, and Radon Testing, so you won't have to deal with any third-party companies to get all your critical inspection needs met!   
Buyer's Home Inspection
Buyers should always turn to an experienced, trustworthy professional for their Home Inspection service. This is the best way to ensure that you receive a comprehensive report that will enable you to make the right purchasing decision.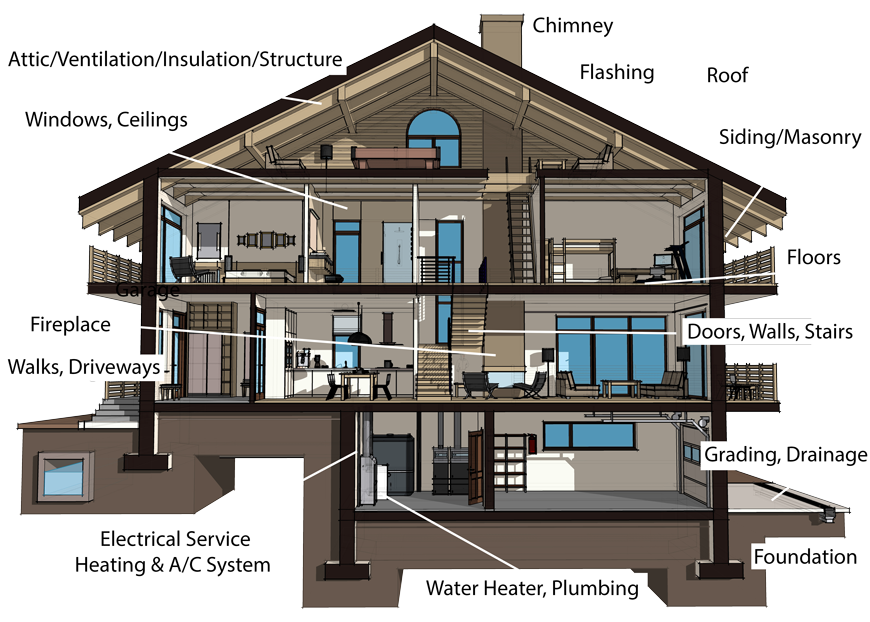 At 360 Home Inspections, we always conduct a thorough, professional inspection that includes (but is not limited to) the following areas:
Roofing system (including gutters and downspouts)
Structural components
Foundation, basement, and crawlspaces
Electrical system
Plumbing system
HVAC system
Exterior (including cladding, windows, and doors)
Decks, porches, and patios
Driveways and walkways
Garages
Fireplaces
Interior (including windows, doors, floors, walls, ceilings, and stairs)
Attic, insulation, and ventilation
Built-in appliances

Pre-Listing/Seller's Inspection
Don't sell yourself short by listing your home without getting a Seller's Inspection first! This service will tell you the true condition of your home, including any problem spots that you should repair or replace if you want to get a higher sales price. By booking a Pre-Listing Inspection, you'll put yourself in a much better position to negotiate with buyers. You'll also be able to showcase a level of openness and transparency that buyers will love!

Radon Testing
All of Northern New Jersey has a higher than average risk of radon exposure inside residential properties. Our home inspector is also a licensed radon measurement technician, making him the perfect choice to test your future home's radon levels. After all, 21,000 lung cancer deaths per year are attributed to excessive radon exposure. Protect yourself and your family by adding a Radon Test to your Buyer's Home Inspection service.

WDI/Termite Inspection
Wood-destroying insects, including termites, cause billions in damages nationwide each year. These destructive pests are a problem that many homeowners don't even know they have until extensive damage has been done. Our home inspector is a licensed WDI professional, which means he's able to perform this add-on service for you on the same day as your home inspection. Protect yourself by making sure you don't unwittingly move-in to a home that already has thousands of tiny residents.
Tools of the Trade
We're happy to inspect a wide variety of residential properties, including multi-family homes that house up to four families. During the walkthrough, you may notice your home inspector using one or more of these tools.

Moisture Meter
When moisture is allowed to accumulate in your home, it can cause a lot of damage and offer mold the perfect breeding ground. We're able to find any hotspots for moisture with a moisture meter.

Gas Leak Detector
Gas-powered appliances such as hot water heaters can develop tiny gas leaks that are unnoticeable by humans. We use a gas leak detector to make sure that gas isn't slowly leaking into your future home.